meta data for this page
Upload Maps to Steam Workshop
If you do not have already created a workspace folder in your MyGames folder create one now.
Now create there a folder named with your Mapname.

Go into this folder.
Create a folder named map01.

Download the WRS-Map-Template.zip if you do not have already done it.
Unpack it and paste the minimap, slopemap and map.lua into the map01 folder.
Next, open the map.lua using a suitable application (e.g. Visual Studio Code or Notepad++). Change the name to the desired name of your map (always edit the text between the double quotes ( " ).
Also, please add a description to description (again in between of the double quotes).
Change the type if you like from career to sandbox or mission.
Change the savegameName to the name your Savegame.lua is named (again in between of the double quotes).
This could look as depicted below:

Make sure the map01 folder contains the Savegame.lua and the Savegame.bin file.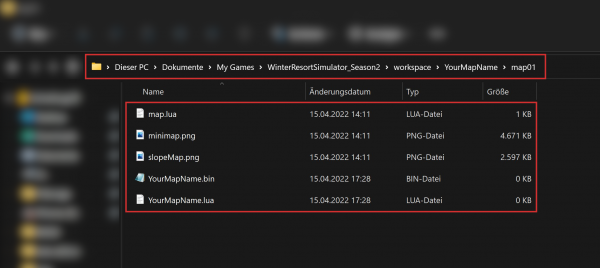 We have finished editing the content of the map01 folder now.
Now launch Winter Resort Simulator once. Upon launching, the game will create a file named WorkshopItem.lua in your workspace directory. We need that file to proceed. As soon as you've arrived in the main menu, you can close the game again.
You now have to edit the WorkshopItem.lua in your workspace.
If you do not already know how you can do this we recommend our tutorial Upload Mods.
Adding a Workshop preview image
Every mod has to have a preview image named WorkshopPreview.png inside its directory.

The image must be named WorkshopPreview.png, and it has to be a .png file.
We recommend using a resolution of 640×360. The aspect ratio should always be 16:9.
In case you are using a higher resolution, it can happen that the Steam upload fails with the error message Limit exceeded. In this case, please scale the preview image down to 640×360.
In-game Uploading
Next, please launch the game again and go to Mod Upload.
You should already be able to see your preview picture.
Before uploading, you need to accept the Steam Workshop legal agreement.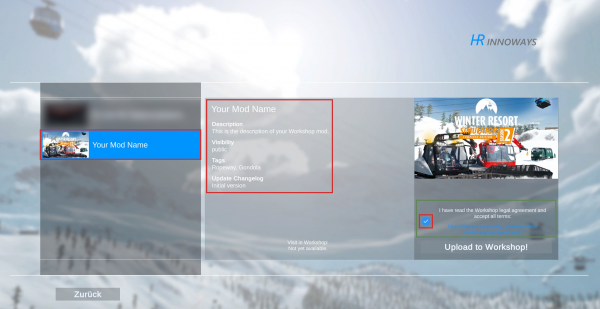 Finally, press Upload to Workshop!\\Please check your mod name, description, tags and visibility one more time before uploading.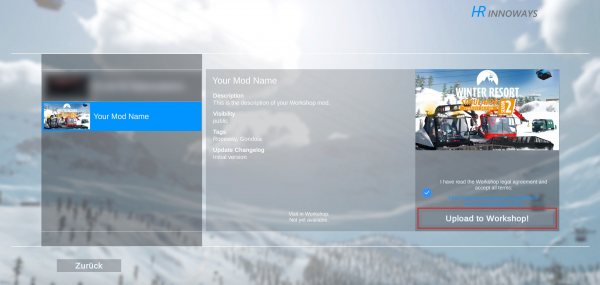 Your mod will now be uploaded to the Steam Workshop!
In case you face any error messages while uploading, please ask on our Community Discord server.
Congratulations, you have successfully shared your map with the community! It can now be downloaded by all players.